Hooray for the daddies of little girls who keep them safe yet teach them not to be afraid of getting their feet wet! ♥ ♥ ♥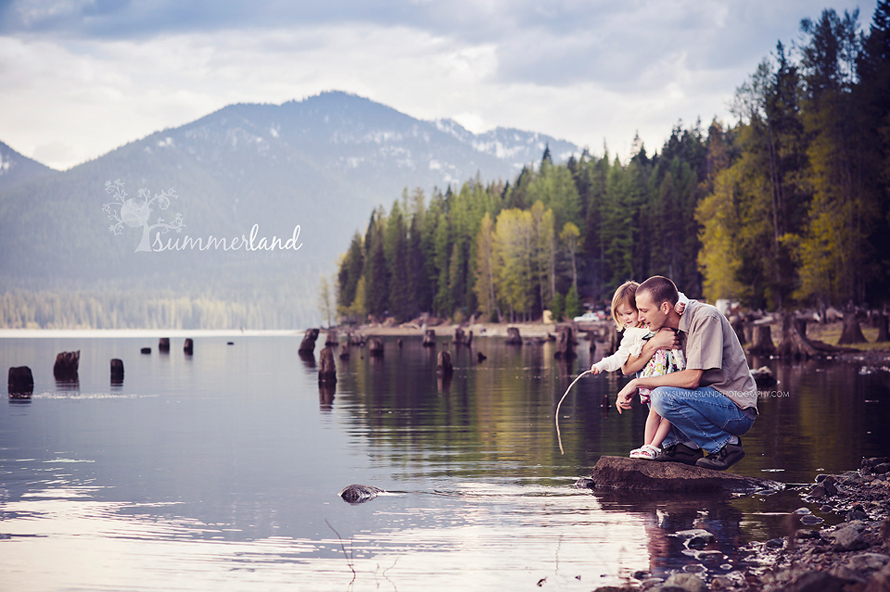 This photo was taken at Bumping Lake near Washington State's Mount Rainier at a recent photo shoot. On my Facebook page I was asked how I got both them and the sky exposed properly. The short answer is that I used my off camera flash. If you want to know the longer version stick around, and I'll give you an ear full.
The skies during the session were beautiful after a recent storm, and I wanted to make sure they weren't blown out. To do that I underexposed the image a little bit to keep the skies nice and dark. My in camera meter on matrix metering told me that exposure. I then took a spot meter reading off their faces, and compared that to my hand-held incident meter. The hand-held meter will be more accurate because it's not influenced by colors like your in-camera reflective meter; however I'm on the shore so I can't get right next to them to to take an incident meter reading so I use both and average them.
Now to pick an exposure. I start off with what I want my aperture to be. In this case it was f/4. That's a little higher than I normally shoot, but I wanted to make sure they both were in focus as well as show off the beautiful landscape. The exposure for the sky is going to have a much faster shutter speed than the shutter speed exposure for their faces. They trick is to pick an exposure that's between them, but a little closer to the sky exposure than their face exposure. That way I still have detail in the sky, but the trees and water don't go too dark. I choose 1/250 s at ISO 100 and I'm shooting in Manual mode. I then checked the back of my camera to make sure the highlights weren't blown.
Now, if I left this exposure as is I'd probably be OK with their faces having enough light because the water is reflecting light back up at them, but I'd have to do a lot of Photoshop magic to bring out the details. Why do all that post production work if you don't have to. If there had been more sunlight, I would have just used a large reflector to bounce light back at them; but the sun was going in and out of clouds and wasn't reliable. To fill in the two of them just a little bit I had my SB800 flash and an umbrella on a light stand on the shore to camera right. It's attached to a quantum battery pack to help it recycle faster and triggered by a PocketWizard FlexTT5 Transceiver. Because it's somewhat far away the result is very subtle, but it does the trick of filling in the shadows on their face beautifully.
Now this big long explanation makes it sounds like it took five minutes to set up this shot. Thankfully that's not the case because I totally would have missed this beautiful moment between them if it had. I already knew the exposure range I was using for the sky. The light stand was set up and ready to go, and I just moved it to where I needed it. So all I had to do was adjust the exposure I already had to bring it a little closure to the exposure for their face. The result: a beautiful moment captured forever between a father and his young daughter.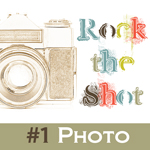 http://www.rocktheshotforum.com